Shrian Samuel to compete at Qatar Asian Super Sport Racing Championship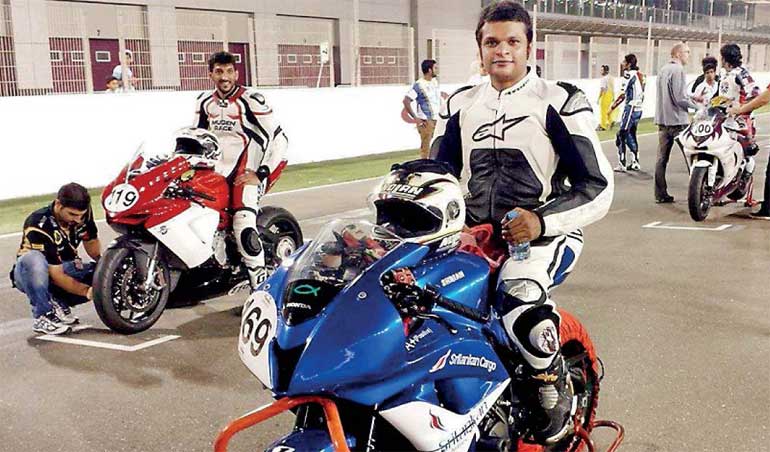 By Hishan Welmilla
Sri Lankan ace rider Shrian Samuel will compete in the second Round of the Qatar Super Bikes Championship to be worked off on 16-17 October at the Qatar circuit
The event is QSS (Qatar Super Sport 600cc) and it is conducted by the Qatar Motor and Motorcycle Federation (QMMF). The racing season commenced on 9 September with first practice and continues till May 2016. Riders from Europe, America, Middle East and Asia will be in action and will be composed by seven events and the points obtained in each race will count toward the Qatar Superbike Championship.
Shrian Samuel took part in the two races at the Round 1 of the competition held on September 11 and 12 and he finished 11th in the first race while finishing 12th in the second even after facing a small accident on the track.
Shrian was out of the competition nearly 18 months and this is the first time he is competing in competitive events. He competed last in the Katukurunda Race in 2014 before taking a time off in the competitive riding where he was placed second in 250cc, 600 cc and 1000cc events
His performances at the Colombo Right Races and Kandy Speed Night races were outstanding and registered victories in 125cc 250cc 600cc and 1000cc events for three consecutive years. Apart from that he was a clear winner at the Nuwara Eliya road races also four years in a row. He was the Champion rider at Katukurunda 2009 and 2012 and was the rider of the year in 2009 and 2012 as well.
Posted on 2015-10-13 02:41:03