Spikers to get International exposure as seven Volleyball tours in 2017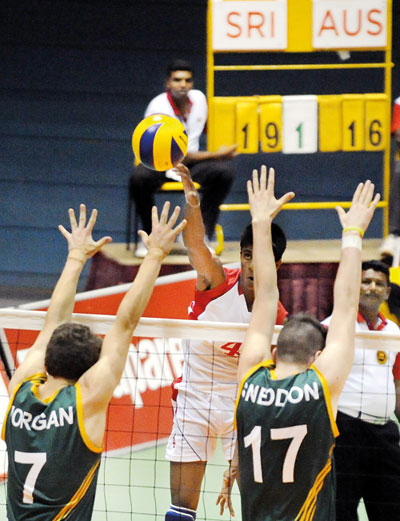 The Sri Lanka Volleyball Federation (SLVF) has decided to take part in seven Asian Level competitions in 2017. At the rate of Rs.3 Million, the total cost for the tours are estimated at Rs. 1.5 Billion.
The tours are: 11th Asian Boys' Under 19 Volleyball Championships in Myanmar from March 28 to April 5. The next is the 2nd Asian Men's Under 23 Volleyball Championships in Iran from May 2 to 10. The third is the 2nd Asian Womens' Under 23 Volleyball Championships in Thailand from May 13 to 21. The fourth is the Asian Women's Club Championship in Kazakhstan from May 23 to 31.The fifth is the Asian Men's Club Championships in Vietnam from June 27 to July 5. The sixth is the 19th Asian Senior Mens' Volleyball Championships in Indonesia from July 24 to August 1. The seventh is the 19th Asian Senior Women's Volleyball Championships in The Philippines from August 9 to 17.
The cost for the Asian Womens' and Men' Club Championships the tour cost will have be borne by the participating clubs.
It has been decided to select 15 coaches for these tours, at the rate of three coaches per team. They are a Head Coach, Assistant Coach and Trainer. The interviews to select these coaches were held yesterday and on Friday at the Maharagama National Youth Service Council (NYSC).
The selection trial for the Under 19 Boys Championships will be held on January 7, 2017 at the NYSC. Thirty players will be picked for this pool and training will commence on January 13.
The selections for the under 23Boys' and Girls' championships will take place on January 14 and 15. Thirty players each will be selected for these pools and pool training will commence on January 24.
For the Asian Mens' Club championships The Sri Lanka Ports Authority team has already been selected. They have been chosen by virtue of being the National Volleyball Champions in 2016.
For the Asian women's Asian Club Championships, Casual Line SC Mawathagama has been chosen. They were the runners-up in the Women's Nationals 2016. Normally the champion team has to represent the country but the champions Air Force has turned down the request and the runners-up Casual Line Mawathagama has been chosen instead.
Posted on 2017-01-01 12:44:45