By Susil Premalal
View(s):
7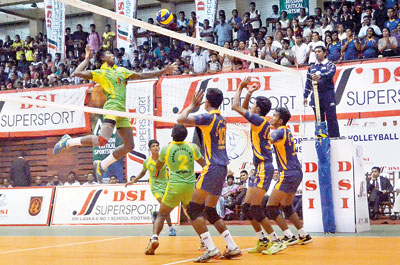 "Sri Lanka's National Sport is Volleyball. This has been the National Sport for the past 24 years. The news that it is to be changed is almost impossible. This cannot be fathomed. The Volleyball Federation is staging a mighty protest against this" said A.S. Nalaka, Secretary, Sri Lanka Volleyball Federation, to the Sunday Times.
"235 countries in the world in the Federation of International Volleyball (FIVB) have registered the sport. Among them Sri Lanka is the only country to recognise volleyball as its National Sport. It is a big honour for Sri Lanka. It is when volleyball is completing 100 years in Sri Lanka, this unusual request has been made. We are sad that in the 100th year of the sport in Sri Lanka that there is a move to remove it from the status of the National Sport.
"It was a three member committee in 1992 that decided to make volleyball the national sport in Sri Lanka. At that stage too Angampora and Elle was taken into consideration but due to the popularity of volleyball and taking other factors into consideration, it was decided to make volleyball the national sport.
"There was no opposition regarding this decision at that time. The whole country agreed to this decision. Now due to the liking of several individuals, instead of volleyball, Angampora and Elle are to be considered as the national sport in the country.
"America's baseball is the national sport in 14 countries. Sri Lanka which made volleyball the national sport in the country and has been so for the past 100 years. To change this at this juncture is a big joke.
"The decision to make volleyball the national sport was not done privately. Volleyball is being played in every corner of the country and it is very popular. There are volleyball clubs amounting to between 50000 to 75000 in the country, registered or unregistered.
"Over 6000 clubs take part in a national level tournament. The amount involved in the game cannot be fathomed. Almost every village is involved in volleyball. Can even 50 people be connected with the game of Angampora?. It is the same with Elle! Only a few villages are involved in this sport.
"If there are plans to change volleyball as the National Sport, the whole country will protest against it," stated an agitated A.S.Nalaka,Secretary of the Sri Lanka Volleyball Federation.
Nalaka made this vehement protest due to the fact that the Sports Minister Dayasiri Jayasekera made a statement to the Sunday Times on December 25, 2016, regarding this.
The Minister said that he personally does not like Volleyball, a sport which originated from America, being the National Sport in the country and that he likes if Angampora or Elle is made the National Sport of the Island.