Sri Lanka lose opener to Japan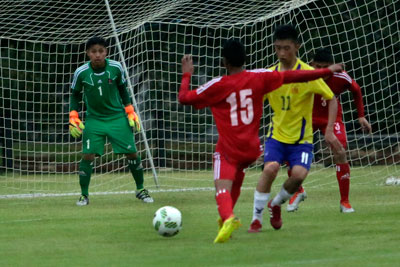 In Sri Lanka's first match of the South Asia-Japan Under-16 football exchange programme Sri Lanka suffered a 1-3 loss to Japan at the Racecourse ground yesterday.
The tournament organised by the Japan Football Association and is being conducted by the Football Federation of Sri Lanka.
The tournament is targeting the 2020 Olympic Games and the Paralympics. Three South Asian countries – Sri Lanka, Nepal and Bhutan – are taking part in the tournament. Japan is taking part as the organisers.
Yoshida Yuji netted in a hat-trick for Japan in the 9th, 14th and 44th minutes to give Japan a 3-1 lead in the first half. Sri Lanka's goal scored by M.S.M. Murshid in the 45+2 minute. None got the opportunity to score in the second half.
In the tournament opener played at 5.00pm yesterday Nepal beat Bhutan 7-1. Three goals were netted for Nepal by Ranjan Pun in the 9th, 60th and 69th minutes. Two goals were netted in by Buirjesh Chaudhary in the 10th and 19th minutes. Roshan Rana Magar netted in a goal in the 26th minute which was followed by a goal by Karlrosh Balkhariya in the 14th minute. Bhutan scored their only goal in the 57th minute through Jkelzang Jigmi.
Currently Nepal and Japan are heading the points table with three points each.
Today's matches: 5.00pm – Sri Lanka vs Bhutan; 7.00pm – Nepal vs Bhutan
Posted on 2017-03-12 14:02:56