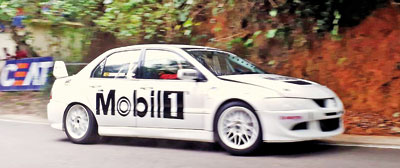 Dinesh Jayawardena in a Mitsubishi Evolution, clocked 32.65 secs to register the fastest time on 4 wheels, as well as the fastest time of the meet, while Sachira Rajakaruna on a Honda CRF 450 clocked 34.58 secs to be the fastest on 2 wheels, at the 21st Southern Eliyakanda Hill Climb (SEHC).
There were over 200 entries, the highest number received for the EHC, but the Marshals and race officials, under the guidance of Southern Motor Sports Club (SMSC) President Ashshar Hameem, with 20 years of experience behind them, conducted this year's race to perfection and on time. The race was not held up even for the few spills, as the recovery crews were extremely swift and efficient.
The SEHC was conducted by the SMSC which is celebrating its 20th Anniversary this year, and sponsored by Sri Lanka Telecom, CEAT Tyres, Mobil, Thamalu Enterprise, Douglas Sons, Viraj Learners and Wurth.
RESULTS
Motorbikes
M1 Group – O Standard Motorcycles over 100cc up to 125cc – 4T Timing
1) Sanjeewa UdayaKumara 42.51 secs
2) Chaminda Subasinghe 42.65 secs
3) Supun Danushka 43.56 secs
M2 Group – O Standard Motor Cycles over 125cc up to 160cc – 4T
1) Pathirage Nikila 39.62 secs
2) Pathirage Mangala 39.83 secs
3) Pathirage Vinula 41.00 secs
M3 Group – M Standard Modified Motor Cycles over 100cc up to 125cc
1) Shane Mark De Silva 40.55 secs
2) Pathirage Mangala 42.30 secs
3) Pathirage Vinula 42.68 secs
M4 Group – M over 175cc up to 250cc – 4T 4CYL
1) Madura Pieris 37.62 secs
2) Janaka Dinesh 37.70 secs
3) PathirageMangala 38.27 secs
M5 Group – Supper SM over 100cc up to 125cc (2T) and over 175cc
up to 250cc (4T)
1) Sachira Rajakaruna 34.58 secs
2) Kavindu Dushan Mudalige 35.65 secs
3) Chaminda De Silva 36.46 secs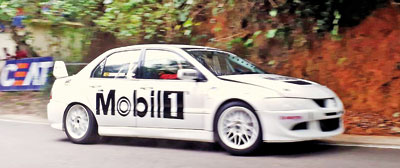 M6 Group – M Modified up to 600cc 4T
1) Maduranga Kaldera 37.48 secs
2) Pramuka S.D. Silva 37.62 secs
3) Lahiru Hansa 37.64 secs
M7 Group – M Street Trail over 175cc up to 250cc – 4T
1) Ishan Edirisinghe 38.83 secs
2) Maheel Pavithra 39.81 secs
3) M. Rizvi 40.49 secs
M8 Group – SM Super Motard over 125cc up to 500cc – 2T and over
250cc up to 750cc – 4T
1) Sachira Rajakaruna 35.33 secs
2) Kavindu Dushan Mudalige 37.49 secs
3) Asanka Udaya 37.84 secs
M9 Modified Street Trails over 175cc up to 250cc 2T
1) S. Wasudewan 40.066 secs
2) Shane Mark De Silva 40.069 secs
3) S. N. Nayana Prabath 41.96 secs
M10 Group – M over 900cc up to 1000cc – 4T
1) Pramuka Sesath 36.19 secs
2) Maduranga Kaldera 36.49 secs
3) Dimuthu De Silva 40.18 secs
M11 Sport Touring Motorcycles over 700cc (Club Event)
1) Pathirage Mangala 39.44 secs
2) Akalanka Perera 40.97 secs
3) H.A. Illeperuma 42.10 secs
M12 One Make Series Buel (Club Event)
1) A.H. Illeperuma 41.78 secs
2) W.P.S. Ranaweera 43.01 secs
3) Damien Antionis 45.06 secs
Cars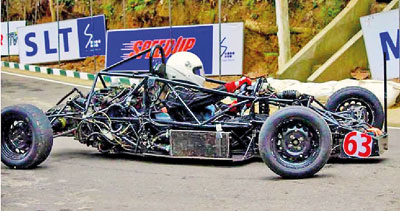 1 SL-N Production Cars – One Make – FORD Laser/ Mazda 232 up to 1300cc
1) Rajith Uluwita 39.77 secs
2) Susantha Gunawardena 40.13 secs
3) Kushan Pieris 40.39 secs
2 SL-E One Make – Mini Saloon 1275cc
1) Chanaka Rathnayake 39.85 secs
2) Lalin Shehan Amarasinghe 41.59 secs
3) Dulan Nethum Deegoda 42.61 secs
3 SL-E One Make – Nissan March 1000cc
1 Chamika Ranathunga 41.54 secs
2 Dammika Pieris 41.77 secs
3 Clive Roger Bowls 42.13 secs
4 SL-N Production Cars – One Make – Ford Laser / Mazda 323 up to 1500cc
1) Rajith Uluwita 40.26 secs
2) Shenal Gunawardena 41.04 secs
3) Susantha Gunawardena 41.29 secs
5 Formula Cars – Maclarans Special 1665cc Modified
1) Nadeera Jinasena 36.13 secs
2) Rohan De Silva 37.72 secs
6 SL-A Modified Cars up to 1050cc
1) Yasith Gamage 38.96 secs
2) Mahen Madugalla 39.45 secs
3) Shawn Rozairo 41.57 secs
7 SL-A Modified Cars One Make Mini 7
1) K. Parameshwaram 42.48 secs
2) Namal Silva 42.75 secs
3) W.N.S. Thissera 44.60 secs
8 SL-S Specials up to 1500cc
1) Zaakir Wahab 36.16 secs
2) Riyaz Razik 39.30 secs
3) Madiwathan Subramanium 42.02
9 SL-S Specials up to 1350cc
1) Prasanna De Alwis 42.97 secs
2) Binara Panduwawala 44.20 secs
3) Danushka Suraweera 44.54 secs
10 SL-H SLAS Homologated Cars up to 1618cc One Make Honda
1) Kushan Pieris 36.25 secs
2) Ayesh Bandara 36.48 secs
3) Dhammika Pieris 36.52 secs
11 Class D – Diesel Cars up to 2000cc non-turbo
1) Prasanna De Alwis 44.59 secs
2) Udara Palliyaguru 47.95 secs
3) Dilupa Palliyaguru 49.81 secs
12 SL-T&J Open (turbo / non-turbo)
1) Cassim Wahab 47.95 secs
Best Timing
1) Dinesh Jayawardena 37.23 secs
2) Chandima Gunarathna 37.46 secs
3) Rohan De Silva 39.55 secs
Best Timing
1) Dinesh Jayawardena 32.65 secs
2) Darrin Weerasinghe 32.80 secs
3) Ushan Perera 33.27 secs
Best Time of the Day- Cars: Dinesh Jayawardena 32.65 secs
Best Time of the Day- Motorbikes: Sachira Rajakaruna 34.58 secs
Best Time of the Day- Overall: Dinesh Jayawardena 32.65 secs