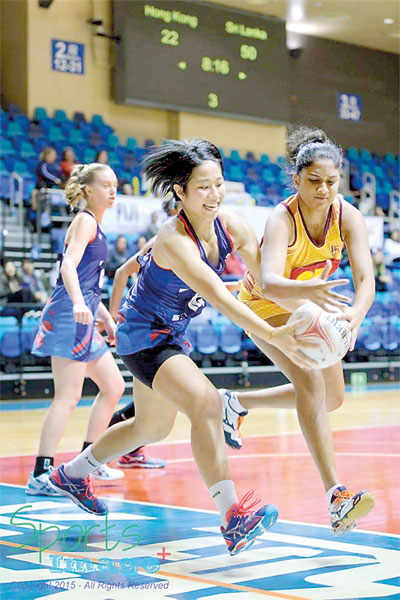 We can triumph again says skipper Nadee Fernando
"My main aim, and that of the team, is to win the Championship and the Special awards on offer at the 10th Asian Youth (Under-21) Netball Championships (AYNC) in South Korea from May 6-13," said Sri Lanka (SL) Youth Netball Captain Nadee Madushika Fernando. The SL team will take wing to South Korea today.
The Special awards on offer are: Best Player, Most Promising Player and Best Teamwork.
At the last AYNC held in Hong Kong (2015), SL were Champions, and also won the Best Teamwork Award. SL thus qualified for the 2017 World Youth Netball Championships in Botswana to be held from July 8-16.
Skipper Nadee, an old girl of Holy Family Convent, Kalutara, and yet, the only unemployed member of the team, is a talented and versatile all-rounder playing as Goal Keeper (GK) and Wing Defender (WD). She was also a member of the Champion SL Youth team in 2015.
She was a member of the SL Schools team that toured Australia and Malaysia.
"The team I am leading is a balanced outfit. All of them have special talents. Because of this, I am confident this time too, we should be able to win the Championship. However, I feel, the training we received, which was for about 50 days, is not sufficient for a contest of this nature. We were able to play about 10 practice games. But, we made maximum use of the training period."
"There are three experienced players, including myself. They are Vice Captain Hasini Perera and Sachini Rodrigo. There are two outstanding schoolgirls in Rashmi Perera of Presbyterian Balika, Dehiwela, and Tharushi Illangaratne of Visakha Vidyalaya, Colombo.
This year, the AYNC has ten teams. They are: Sri Lanka, Chinese Taipei, Hong Kong, India, Malaysia, Maldives, Pakistan, Singapore, Thailand and South Korea. Sri Lanka is in Group 'A', along with Thailand- May 6 (1st match), Pakistan- May 8 (2nd match), Maldives- May 9 (3rd match), Hong Kong- May 10 (4th match).
Indications are that Sri Lanka can emerge Group Champions according to the schedule.
Malaysia, Singapore, Chinese Taipei, India and South Korea make up the Group 'B teams.
Youth Coach Tamara Liyanage says that, despite the setbacks, a formidable team has been formed.
"Last time too, I brought back a Champion team. This time too, I will strive to do the same. There was a setback in the balls we used for training. We practised with Molten, but the official ball, Gilbert, was available only for 2 days. All teams practised with the official ball, but we were deprived due to the callous attitude of the officials of the Sri Lanka Netball Federation, because, though the official Gilbert ball arrived in Sri Lanka on April 9, we received it only on April 22, in Nawalapitiya, where the team was on high altitude training," she concluded.
The Team: Nadee Madushika Fernando (Captain – Kalutara), Hasini Perera (Vice Captain- SL Army), Maleesh S. Ratnayake, Mandira C. Sampath (Seylan Bank), H.D.N.T.M. Hapuarachchi, Nirmani Perera (SL Navy), Sachini Hirunika, Kaveena Rajapakse, Poornima Lakshani (SL Army), P.M.H.C. Dissanayake (SL Air Force), Rashmi Perera (Presbyterian Balika Dehiwela), Tharushi Illangaratne (Visakha Vidyalaya), Thamara Liyanage (Coach), Renuka Kuruppu (Manager).