Eight Swimmers off to Bahamas and Hungary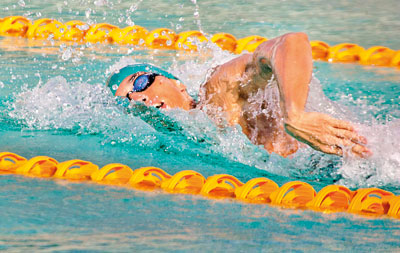 Sri Lanka Aquatic Sports Union nominated two swimming teams comprising two men and two women each to participate in the 6th Commonwealth Youth Games and 17th FINA World Championships in Bahamas and Hungary respectively.
The two nominated teams awaits the approval from the Ministry of Sports.
The Men's team for the sixth Commonwealth Youth Games at Bahamas from July 16-25 will be represented by Kyle Abeysinghe and Akalanka Peiris. Vinoli Kaluarachchi and Dilrukshi Perera will compete in the Women's events.
Kyle Abeysinghe was the youngest to swim at World Swimming Championship in the 200mts event setting up a national record with a time of 2:04.17mts. Akalanka Peiris was the highest ranked swimmer at the 43rd National Age Group Swimming Championship 2017. Vinoli Kaluarachchi was adjudged the Best Women Swimmer at the National Sports Festival while Dilrukshi Perera achieved personal best in all the events at the fifth FINA World Junior Championships.
Former Sri Lanka swimming sensation Julian Boling will accompany the team as the Manager for the 6th Commonwealth Games.
For the 17th FINA World Swimming Championship to be held in Hungary from July 14 to 30, Mathew Abeysinghe and Cherantha De Silva will represent Sri Lanka in the Men's events while Kimiko Raheem and Ishani Senanayake will form the Women's team.
Mathew Abeysinghe, Sri Lanka's swimming hero at the last South Asian Swimming championship was the first ever Sri Lankan swimmer to qualify for the 2016 Rio Olympics. He clocked 50.53 in the Men's Free Style event at the Hong Kong Swimming Circuit Championship. Cherantha De Silva was a member of the champion Men's 4×100 Relay team at the South Asian Aquatic C'ships 2016. Kimiko Raheem the up and coming swimming prodigy represented Sri Lanka at the FINA Championships in Canada renewed Sri Lanka records at all her events with personal best. Ishani Senanayake, a promising swimmer who Sri Lanka will pin her hopes is a bright prospect for the future.
Manager for the 17th for the FINA will be Manoj Abeysinghe.
All the selections were made based on the qualifying timing at the Junior National Aquatic Championship and the National Aquatic Championships held recently.
Posted on 2017-06-19 03:00:15