Athletics' national championship produces only three records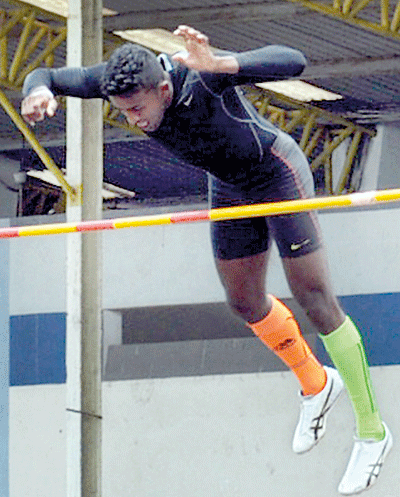 Olympic athlete Manjula Kumara Wijesekera and E. W. U. Rathnakumari won the Men's and Women's Best Athlete Award respectively at the 95th National Athletics Championships which concluded at the Mahinda Rajapaksa Sports Complex in Diyagama yesterday.
Wijesekera, representing Sri Lanka Air Force clinched the men's high jump title while producing a fine performance of 2.21 metres.
He also had the satisfaction of winning two other special awards, the Best Jumper as well as the Best High Jumper at this meet.
Meanwhile, Rathnakumari of Sri Lanka Army took the Best Athlete Award in the women's category for her effort in the 400m event where she returned a time of 53.63s.
However, this year's Nationals produced only three Sri Lanka records as most of the elite athletes decided to skip the event after the Sri Lanka Anti Doping Agency (SLADA) decided to conduct random doping tests during the meet.
Aniththa Jegatheeswaran (Women's pole vault) of the Jaffna District Athletic Association, Ajith Karunathilake (Men's decathlon) from Sri Lanka Army and Lakshika Sugandi (Women's heptathlon) of Sri Lanka Army were able to establish new Sri Lanka records.
In addition, eight new meet records were shattered while one meet record was equalled.
Special awards
Best Athlete (hurdles events): A. L. A. L. Rathnasena (Air Force) 400m hurdles 51.05s
Best Athlete (throwing events): D. S. Ranasinghe (Army) javelin throw 76.92m
Best Jumper: Manjula Kumara (Air Force) 2.21m
Best Sprinter (Men's): Dilip Ruwan (Army) 400m 46.66s
Best High Jumper: Manjula Kumara (Air Force) 2.21m
Best Sprinter (Women's): E. W. U. Rathmakumari (Army) 400m 53.63s
Best Athlete Middle Distance (Women's): G. T. A. Abeyrathna (Navy) 800m 2:05.69s
Best Athlete Long Distance (Women's): U. K. N. Rathnayaka (Army) 3,000m steeplechase 10:25.25s
Best Performance Women's (hurdles): E. K. Madushani (Army) 400m hurdles 1:00.89s
Best Performance Jumps (Women's): H. D. Vidusha Lakshani (Army) 13.43m NMR
Best Performance Throwing (Women's): W. K. T. Fernando (Air Force) shot put 14.52m
Best Men's Athlete Middle and Long Distance: H. D. M. I. G. Idunil Madushan Herath (Army) 800m 1:48.83s
Best Athlete (Women's): E. W. U. Rathmakumari (Army) 400m 53.63s
Best Athlete (Men's): Manjula Kumara (Air Force) 2.21m
Best Athlete (Men's and Women's): Manjula Kumara (Air Force) 2.21m
Posted on 2017-09-03 16:24:15