Ushan Charuka breaks national weightlifting record in over 105 kg category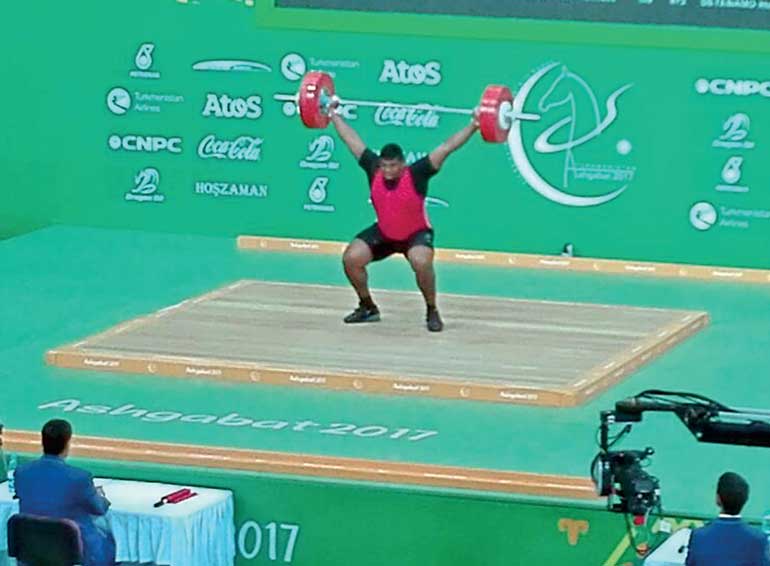 By Hishan Welmilla in Ashgabat. Sri Lanka's Ushan Charuka, who competed in the men's over 105 kg category, broke the national record on 25 September at the 5th Asian Indoor and Martial Arts Games which are currently underway in Ashgabat, Turkmenistan.

Ushan finished eighth in the competition, in which 10 weightlifters competed from Asia, with a total of 319 kg to grab the new Sri Lanka record overall (Snatch, Clean and Jerk) and also record the highest ever mark in the Clean and Jerk.

Uzbekistan's Rustam Djangabaev (442kg) won the Gold medal , while hometown athlete Hojamuhammet Toycyyew (431kg) and Homayoun Teymouri (430kg) of Iran took the silver and bronze medals respectively.

Ushan started the Snatch with 130 kg and improved to 139 kg in his third attempt. He overcame the weight of 168 kg in his first attempt in the Clean and Jerk and improved from that level to 176 kg and 180 kg with his last two attempts to lift a total weight of 319 kg in both the Snatch and Clean and Jerk, surpassing the previous total claimed by Chaturanga Jayawickrama.

Ushan from the Sri Lanka Air Force was also able to establish a second national record in the Clean and Jerk by lifting 180 kg, which was established by Chathuranga (174 kg) at the National Sports Festival weightlifting contest.

Chaturanga of the Central Province established two new Sri Lankan records, the first was when he lifted the highest ever total weight of 310 kg while participating in the 105+ kg weight class at the weight lifting contest of the National Sports Festival held at the Polonnaruwa weightlifting centre last August. He beat the then highest total of 308 kg recorded by C.J. Vithanage of the North Central Province.

The Sri Lanka's men's chess team competed in the men's rapid team round 5 against Afghanistan while the women took on the Philippines in the women's rapid team event round 5 earlier on day 10 of the competition but could not progress.

The final event for the Lankans will be the men's blitz team event where Rajendra Katugampola and Romesh Weerawardena will represent the male team while Dasuni Hansika and Zainab Saumy will represent the women's team in the women's blitz under-23 event which will get underway today, the last day of the 5th Asian Indoor and Martial Arts Games 2017.

The host nation Turkmenistan finished at the top of the medals table while China and Iran were left in second and third position. It is a remarkable achievement for the host nation and it will go on to be recorded as the highest achievement by a host nation in the history of the Asian Indoor and Martial Arts Games. Sri Lanka finished in 25th position.
Posted on 2017-09-27 10:50:01