Sri Lanka to experience first-ever 'X30 Asia CUP' challenge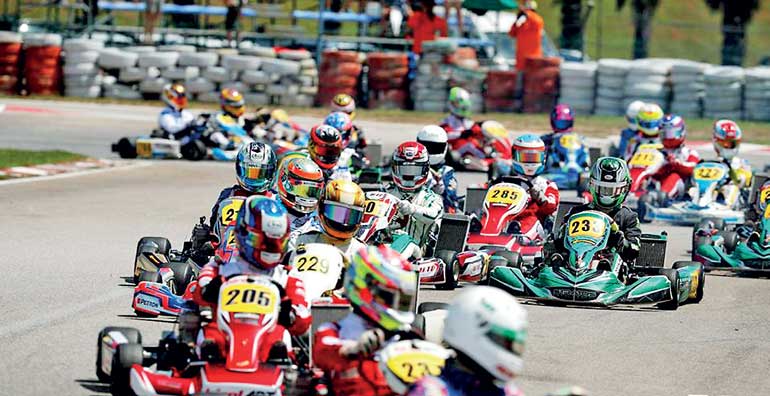 David Pieris Racing and Leisure Ltd.(DPRL), a member of David Pieris Group of Companies, recently announced that Sri Lanka's first international Go-Kart race 'X30 Asia Cup' will take place on 13 and 14 January 2018 at the Sri Lanka Karting Circuit (SLKC), Bandaragama.

This is the first time an X30 event is being held in Asia outside of South East Asia. The X30 Asia Cup 2018 is an invitational event and will mark the start of Asia's Go-Karting season and will be a precursor to the six-round championship race series held throughout the year in Singapore and Malaysia. Regional and international karters representing Asia and Europe are expected to participate in this international class event. The event has also received the strong support and endorsement of Niroshan Pereira, the President of the Ceylon Motor Sports Club and Asian Zone Coordinator for FIA, which is the world governing body for motor sports.

A concept of IAME, the global manufacturer of karting engines and promoter of karting events, X30 is now a full racing program with more than 25 countries running an X30 Challenge. With a class structure for racers starting from eight years, six different engine models, two international events and several continental events, it is one of the most diverse and successful Go-Kart racing concepts.

The X30 Asia Cup will have five race categories:

Cadets class - Age 8-12 years

Junior class - Age 12-14 years

Senior class - Age 14-30 years

Masters/Veterans class - Age 30 years and above

Super Shifter

The winners of X30 Asia Cup will be awarded free entry to the IAME International Final held in Le Mans, an invitation-only event and one of the world's largest and most prestigious professional karting races.

Commenting on the occasion, DPRL Managing Director Dinesh Jayasundera noted: "This will be the first time that a race of this nature and magnitude is taking place in Sri Lanka and the first of its kind in South Asia. We are expecting around 80 world-renowned Go-Kart drivers accompanied by about 300 overseas guests, including mechanics and technical support teams, family members and motor sports enthusiasts to attend this race. We also anticipate that the event will attract at least 2,000 local motor racing enthusiasts to the Bandaragama circuit."

The event is promoted by Auto Inc Euro Sports Singapore and DPRL-supported RL Karting Malaysia. It is organised by the Ceylon Motor Sports Club.

Emphasising the importance of this event, Jayasundera added that the promoters believe that the event will spark a great interest in the local racing community and will open new avenues to revolutionise karting in Sri Lanka and the region. More details are available on www.x30sea.com.
Posted on 2017-11-09 22:29:30