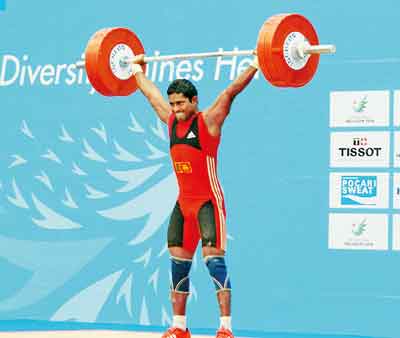 By S.R. Pathiravithana
2018 Commonwealth Games
View(s): 29
Weightlifting would be one of the main medal hopes at the 2018 Commonwealth Games and a contingent of eleven lifters who have qualified would be there the Gold Coast, Down Under. The Games are scheduled to be held from April 5 to 21.
According to National Olympic Committee of Sri Lanka (NOCSL) Secretary General Maxwell de Silva, the weightlifters are among the medal hopefuls at this year's games. He told the Sunday Times"The weightlifters have already qualified and a contingent of eleven lifters – seven men and four women – will be taking part and I feel they are the biggest hopefuls for any medals at these games as before."
Especially Chinthana Vidanage who won a Gold and a Silver respectively at the 2006 Melbourne Games and 2010 New Delhi Games. At the Melbourne Games Vidanage competed in the 62kgs category while at the New Delhi Games he moved to 69kgs. Meanwhile, Sudesh Peiris who competes in the 62kgs category won a Silver at the Glasgow Games in 2014 and Bronze at the New Delhi Games.
The other certainties at the games are Rugby and Beach Volleyball which have already received the green light from the organisers, according to de Silva.
A cloud is still hanging over the participation of the badminton team. This is because, as highlighted by the Sunday Times last week, the local badminton body remains suspended by the Badminton World Federation from mid October for violating international rules and regulations. The local body has been given time till December 31, to rectify the situation.
But, it is a sorry state of affairs with gymnastics. It is said that Aruna Prasad, president of the Gymnastics Association, had not updated the registration with the Commonwealth Games authorities before the cutoff date and they have been struck off the list of participants. It is also learned that one of Prasad's siblings was also a hopeful in the same sport and is also among those struck out. Now it is said that Prasad is contemplating resigning from his post over that faux pas.
However, the NOCSL Secretary General added, "Though certain disciplines have already registered with the authorities, this time we are going to be very tough about the list of participants and only those who have been give the nod by the national selection committee would be permitted to make the trip to Australia."
Commenting on the NOCSL AGM poser, de Silva told the Sunday Times, "We will definitely have the Special General Meeting on January 4, 2018. Besides that, the NOCSL President Hemasiri Fernando is affirmative that the AGM will be held early February and the audited accounts statement will be made available prior to that date".
The list of Lankan medal winners at the Commonwealth Games