Australia win series opener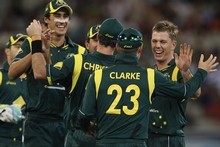 Matthew Wade scored 67 runs on his ODI debut, while the Hussey brothers contributed 106 runs as Australia reached 216-5 in a 32-over innings which included a three-hour rain interruption.
India was all out for 151 in reply, with left-arm paceman Mitchell Starc (2-33) removing openers Sachin Tendulkar (2) and Gautam Gambhir (5) in a torrid opening spell. Clint McKay (4-20) picked up four wickets, including two in his first over to end a productive, 51-run third-wicket partnership by removing Virat Kohli (31) and Rohit Sharma (21).
It was yet another lopsided defeat for India, which lost all four tests and the opening Twenty20 international before scoring its first win on the Australian tour last Friday in a T20 match at Melbourne.
"It's a really good start for us," said Australia captain Michael Clarke, who skipped the two Twenty20 internationals last week. "I thought Matthew Wade was outstanding .... it was a very good team performance."
After breaking its drought in Australia on Friday, India should have started the Tri-Series on a high.
Posted on 2012-02-05 19:25:28